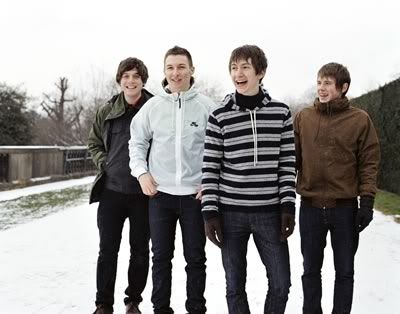 I'm sorry folks, I tried, God knows I tried. Middle-aged people are supposed to be listening to pop or reception-lounge-easy-listening music. Nothing to raise your high blood pressure and such. But I just can't help being a rocker and even I myself am surprised that I am capable of appreciating indie rock music. Imagine that!
I've chosen to ignore the
Arctic Monkeys
ever since all that hype came out three years ago. I was thinking - surely they're not as good as what the media make them out to be. Since then I've always dismissed them as all hype and no substance. You know how much the air the British tabloid media is capable of. Though I should not have been so flippant since I haven't really listened to them at length except from some snippets one hears from BBC Radio 1. As it turned out one night when I usually have an hour of quiet to myself, I chanced upon Channel 4 airing their Live at the Apollo concert (recorded more than a year ago) because there was nothing else to watch. I thought I'd grit my teeth and bear it out 'til I become sleepy.
Well whaddayaknow, listening to their high energy music I was mesmerised, sat up and took notice and the more I listened the more I like what I was hearing - you know their music. So this is the Arctic Monkey they were talking about. I trawled YouTube for more of their other songs and like some infatuated teenager they got me hooked. I was telling my husband if I were a teenager now I would be head over heels obsessed with them.
I love their catchy riffs, the punk rock -like energy, and the fact that their contemporary lyrics speak of their everyday experiences in their own words not some flowery poetic bland verses of abstract ideas. Love also the fact that they retained their Sheffield accent even in their songs. Just listen to their first hit "I Bet You Look Good In The Dance Floor". The Glastonbury Festival of 2007 almost turned into a giant karaoke session with everyone singing and dancing along.
Notable in the band is their songwriter and lead guitarist (usually) Alex Turner and Jamie Hedges who can spew out great beats in the drums. In terms of musicianship, the first things I noticed are those two - lead guitar and drums.
"When The Sun Goes Down" is their first song that I liked while my youngest, who's only 8 years old, loved Mardy Bum. Other songs of theirs I love are: "Flourescent Adolescent", "Certain Romance", and "Teddy Picker" among others. Now I'm eagerly awaiting for their new album that going to be released next month August 2009. Go on YouTube.com and search for the Arctic Monkeys. They're good live performers as well if I may say so.
So there you go, I'm one rocking middle-aged momma. I wouldn't have any other way ... really.
I think I'll post my Led Zep piece next to keep the theme running. Hehehe!