Well, as most of my linked friends and relatives in Facebook already knew I've been back to the Philippines for a little over two-week break (thanks to the generosity of my sister Citas). On one hand, I wish it could be a food-discovery trip but on the other, I knew my time is too short in seeing and meeting up with relatives and friends I haven't seen at least in the 10 years I've been away. One thing I made sure (and with a lot of determination) is to visit my father's hometown of Sung-an, Mercedes, Eastern Samar. It was the first time I've ever set foot on it. There were always talk in the family of visiting it since I was small but it never came to fruition. Thankfully I persisted and witnessed in full glory the beauty and other quirks of my father's village and heritage.
The goddess of weather was cooperating. I arrived in the Philippines during the wet season - meaning the typhoon season. Samar is well known to be the doormat of typhoons in the country. Most of these severe tropical storms make landfall in Samar and as expected the populace are well experienced to deal with them. Tourist industry-wise this is the low-season. Mercifully, there were only a couple of short showers during my stay which for the most part was hot and very sunny.
One thing pleasantly odd in Sung-an, there weren't any mosquitoes! Well at least in the four-nights I slept there I haven't seen one nor been bitten by one. So we slept completely mosquito-net-free with no insect screens on the windows and with only an electric fan to keep us cool. Try doing that in Manila and you'll get literally lifted by a swarm of mosquitoes!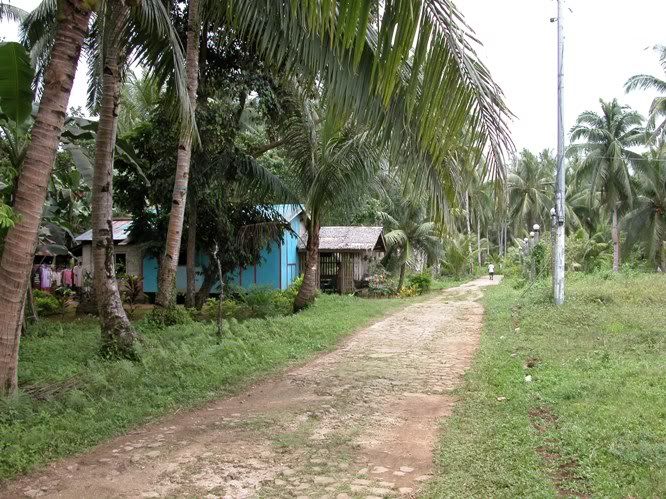 We stayed in my Auntie Dining's (my father's sister) place which is across the road from the village church and a stone's throw from the local primary school. So every morning we were woken up by the daily drill of primary school pupils reciting the times table or the singing of the national anthem at flag ceremony.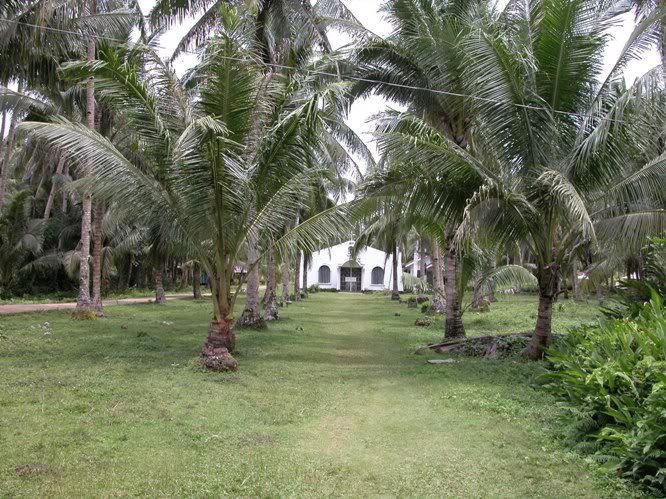 This is the village church opposite my Auntie's place. It's the hub of the community.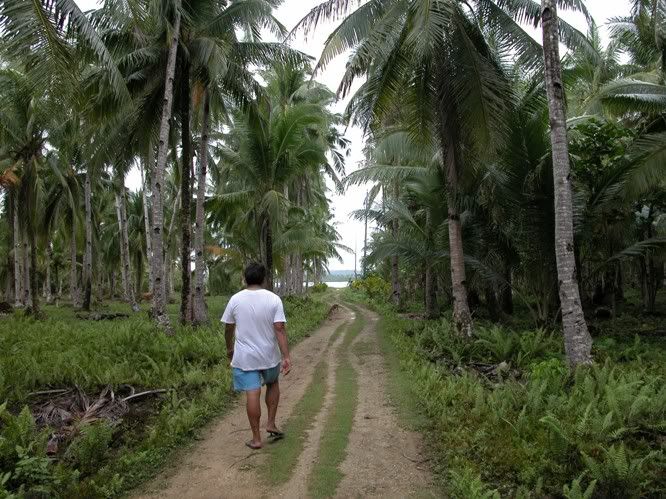 We also went to the coastal area of the village which is only a few hundred meters walk away. I really couldn't say 'beach' because the water edge is almost completely covered by mangroves. Probably because their area faces the gentle currents of Leyte Gulf. This road leads to Sabang, a place where there is a bridge that connects Sung-an with other adjacent villages.
From time to time, me and my siblings hear our father describe a small island owned by their family. It might not be a good idea to subdivide it because the current size of the whole clan means we would probably get a bucket of sand each. Hehehe!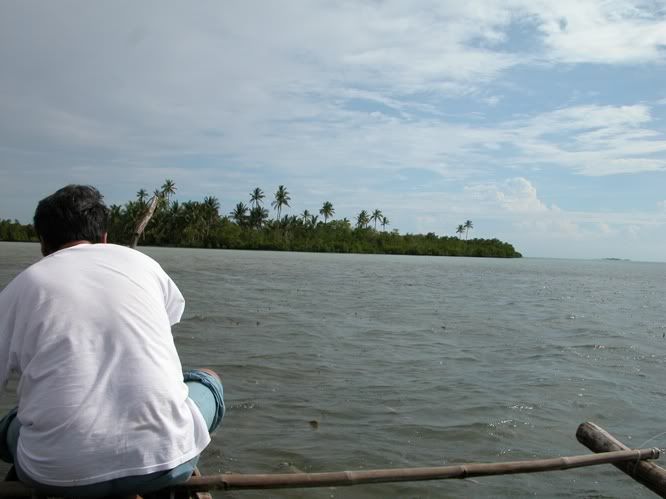 And here it is - Margano Island. It's about 5 hectares big and like the area, completely covered by mangroves by the water edge except for a small beach for access. What I like about this pretty island is that during low tide you can walk the 300 meters from the mainland. If you can't wait for the water to recede you can always borrow one of the small outrigger boats (banca) parked in a small beach in the mainland.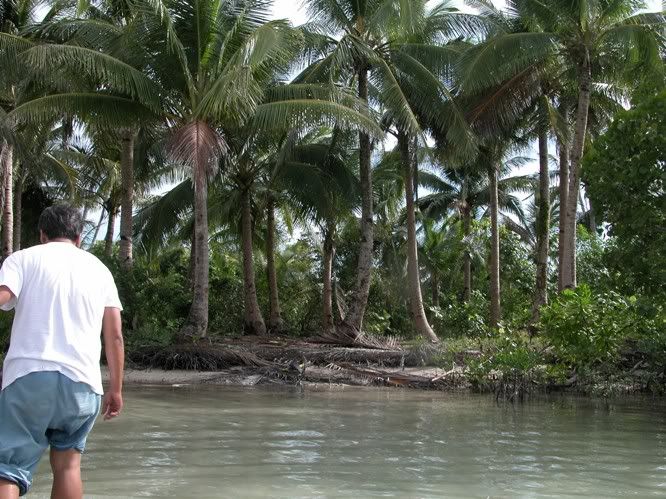 That's the
daongan
(beaching place) of Margano. No one lives there now but there was a time when my Auntie Goning and her husband lived there for a whole year. I think it was cool of them to live there. Imagine being cut-off from almost everything but yet near enough to access supplies to not worry about your survival.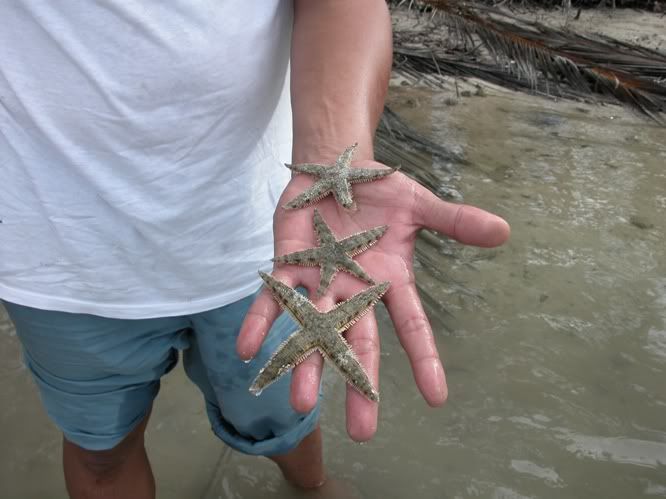 Starfish, sea cucumbers, shrimps, and small crabs abound around the island. How about that - a four-armed starfish? That's the first time I've seen one! But it's actually rather common there.
Noticed the nice resolution of the pictures? My BIL Derek lent me his high-end Nikon Coolpix camera which accounted for these great images. Thanks Derek!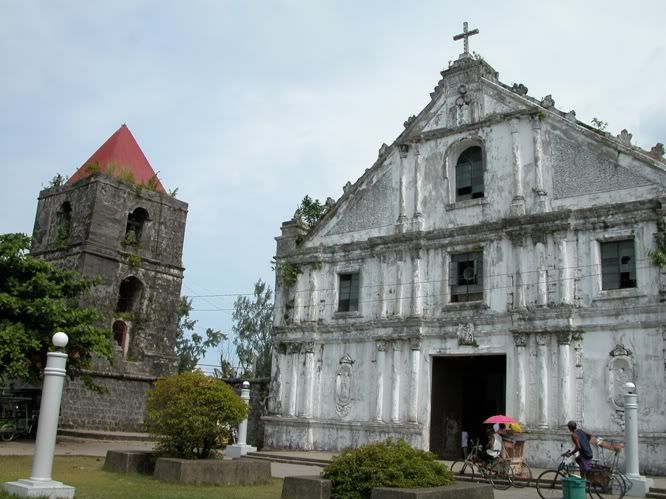 Although administratively Sung-an is part of Mercedes town, almost everyone goes to the town of Guiuan where major businesses and shops are located. Above is the old Guiuan church originally built in 1595.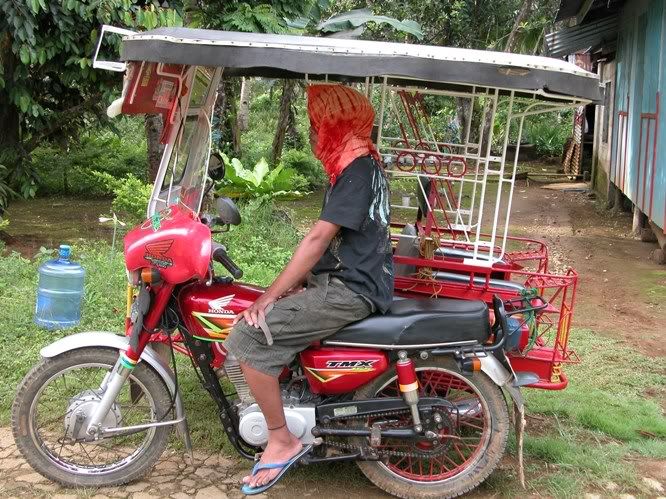 This, a tricycle, is my local taxi which, because of the seriously rough roads to Sung-an, on riding it feels like being in a 30-minute workout in the gym.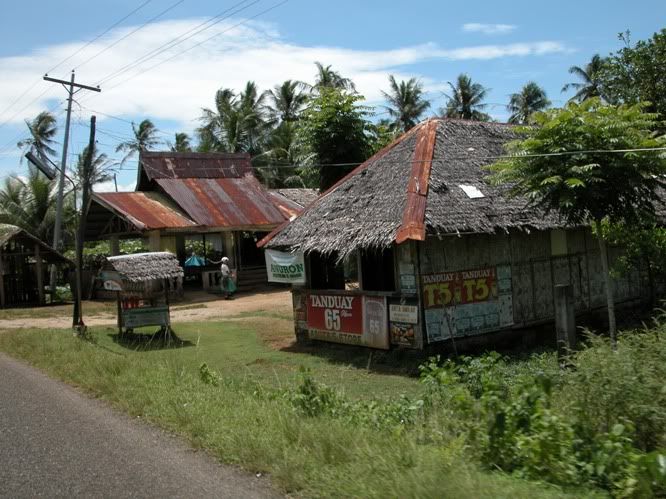 One of the curious things I saw, see that tiny little hut on the left of the above photo? That's the local petrol station. LOL. Big and small glass bottles of Coke, Pepsi, or 7up are filled with petrol (gasoline) or kerosene. Customers are mainly tricycles.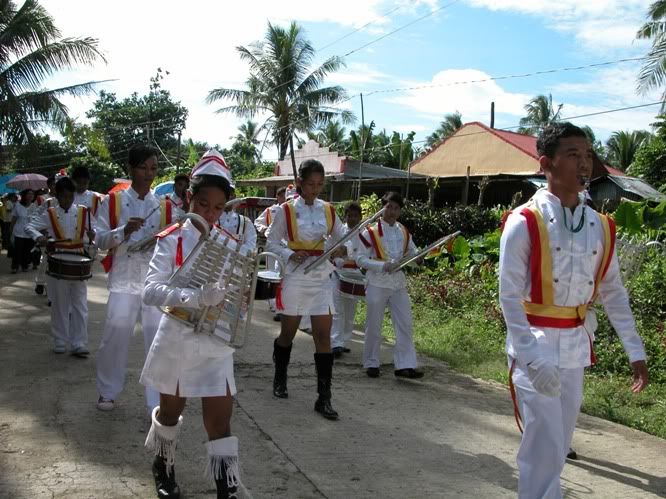 I chanced upon the 61st anniversary of the founding of Mercedes town. They have a simple ceremony at a stage opposite the municipal hall. Naturally, town and village officials attended including representatives of local schools. I was surprised to see not one but three marching bands. One from an elementary school and the others from the two high schools in the town. Despite the dwindling student population (lots of people have migrated to the cities) they still have marching bands in their schools - how cool is that? And I have seen quite a number of advertisements everywhere - saying "band members required apply here" or "band practice every Tuesday and Thursday" or "band practice area - inquire inside". I could guess there must be a lot of musical/performing talents in my Tatay's province. It certainly showed among my paternal relatives. Several cousins are professional singers or dancers. My father's uncles used to be part of some mariachi-type of band. I certainly love music and dance which I can attribute to my father.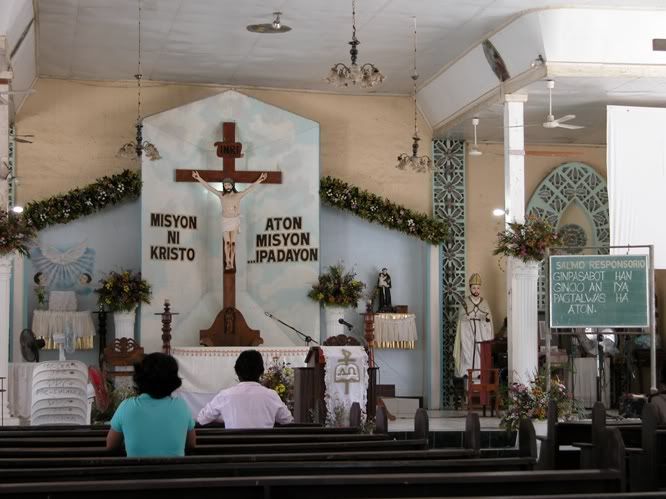 We also went to Sulangan (yes aboard that tricycle), a small island at the very tip of Samar province. People from all over Samar, Leyte and beyond visit this small island because of the miraculous image of St.Anthony in Sulangan parish church.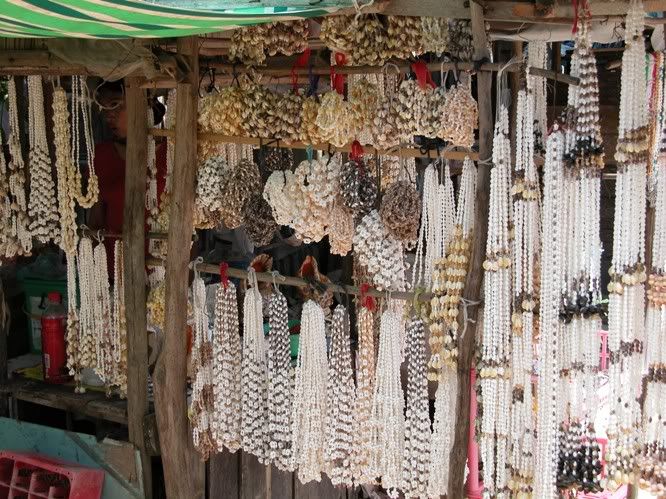 Probably the only other significant sources of income here, besides the tourist commerce the pilgrims bring, are fishing and seashell crafts. The most notable of the latter is the prevalence of the
golden cowrie
in the area. They are relatively rare because their habitat is around 10 fathoms (60 feet) deep and they only come out at night! Imagine diving and hunting at those depths and in complete darkness.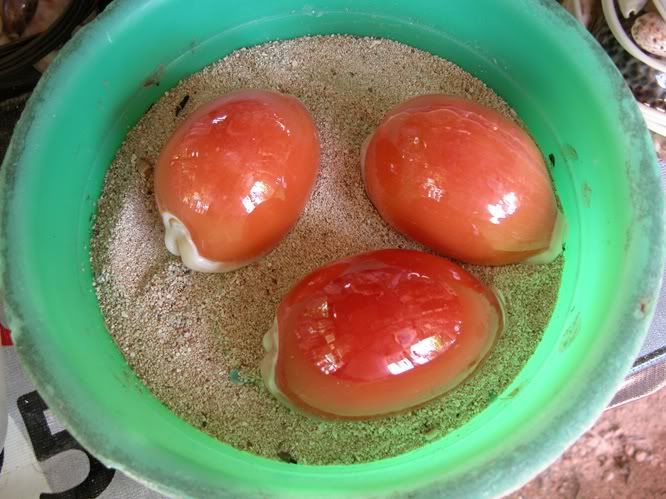 Just look at those beautiful, plump, golden, bottom-of-leche-flan-caramel colour of these wonderful shells. These ones I saw being sold in Sulangan ranges in size from 1.5 to 2.5 inches. Less perfect ones are pegged between 800-1000 pesos while the most perfect one there, the one I really fell in love with, was offered to me after much haggling at 2000 pesos. It was worth less than £30.00 ! But I was not sure if these beautiful shells are allowed through British customs. So sadly I have to let go of it.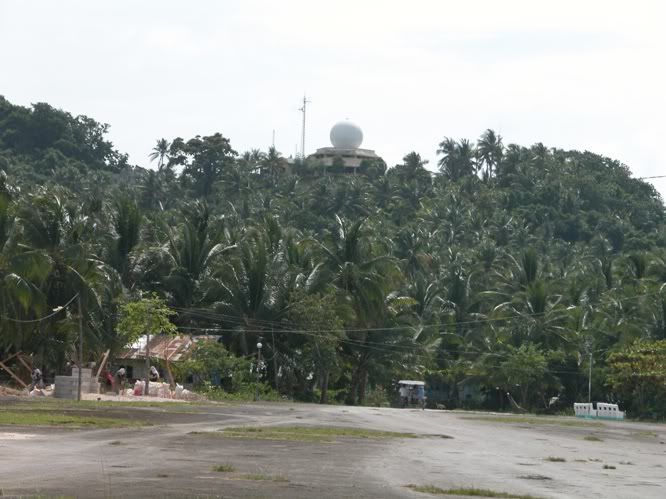 Of course we won't miss the beautiful beaches of Samar. On the way, we went saw this
PAG-ASA
weather station. Being the doormat province of typhoons, it's just appropriate for Samar to have one of its own.
Do you notice the wide paved road? This used to be the old airfield of MacArthur's WWII time. In fact, the new Guiuan airport they're preparing to replace Tacloban's to become the local domestic airport, used to be a WWII airfield as well. Tacloban airport will be extended and redeveloped to be handle international flights.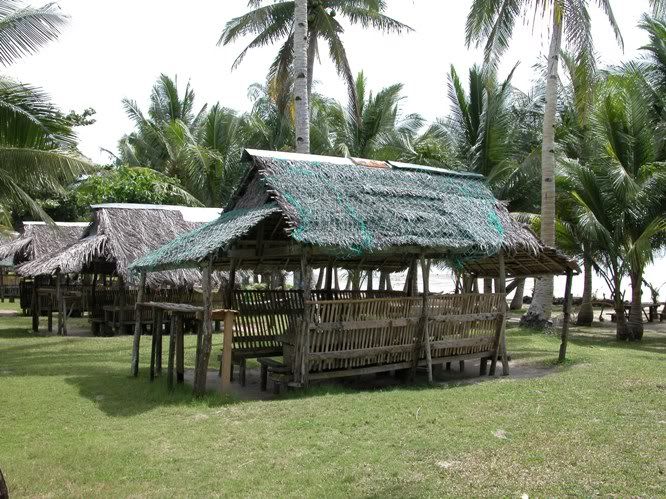 One of the resorts we went to admire the beach is Dumpao.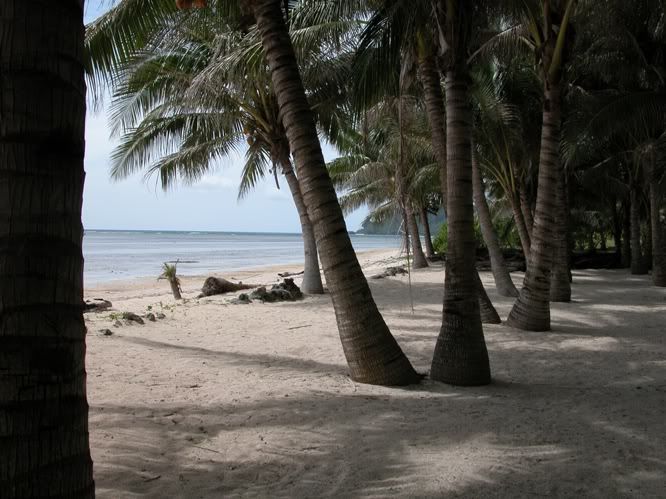 Nice shady trees to shelter from the sun.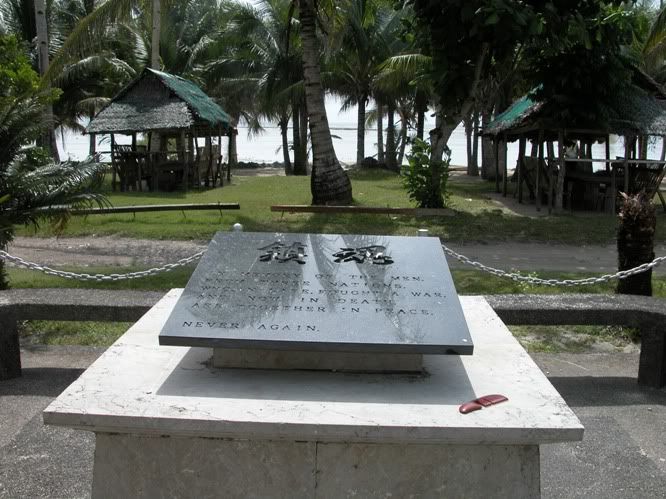 A World War II memorial right in the resort.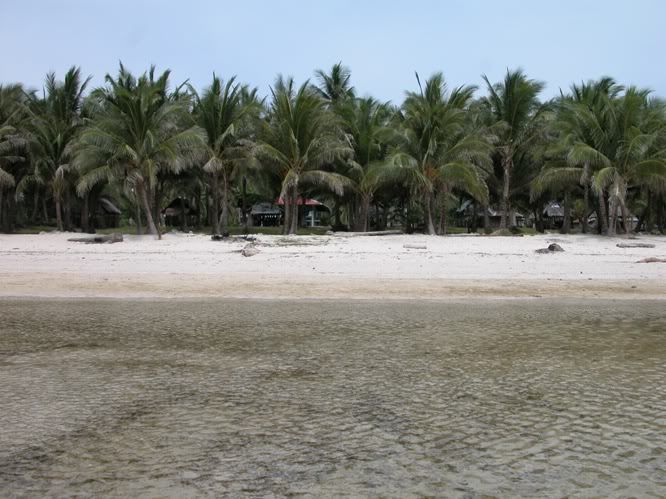 Dumpao is your typical palm-fringed white sandy beach. Nice!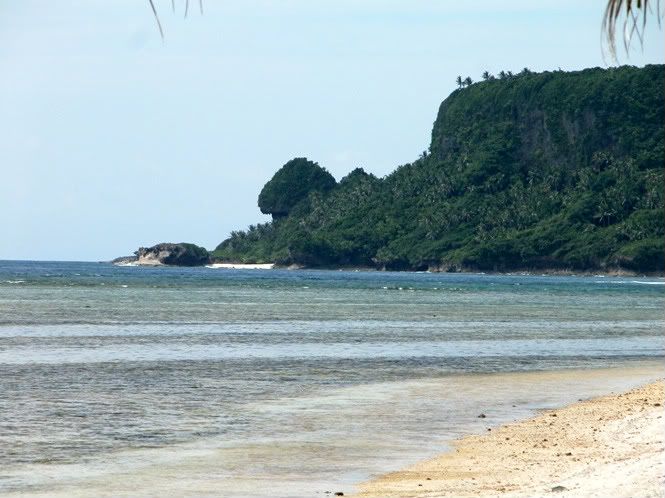 There's a curious mushroom-shaped formation among the cliffs. I wonder what it is?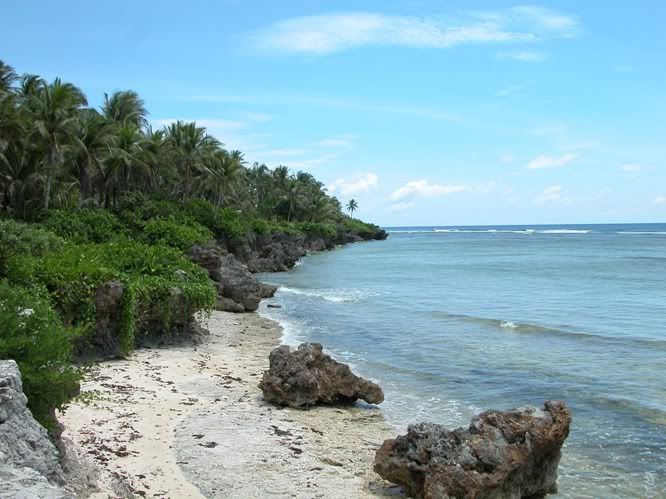 Calicoan island's popular side is the one facing the Pacific. When the waves are strong you can bet surfers are not far behind.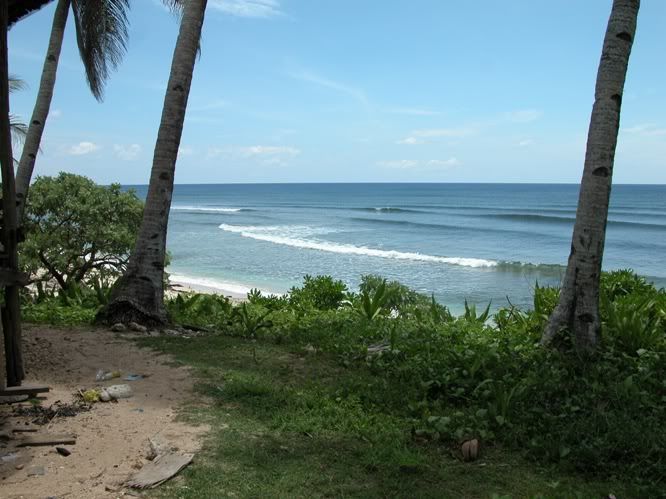 Another Calicoan island scene. We saw a number of beach-front lands for sale there. Wonder how much they cost?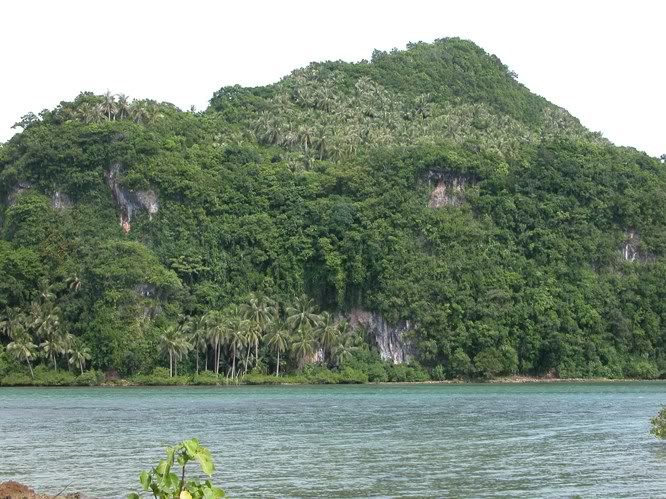 Buyayawon is a barrio near Sung-an. It's got a beach called Haclagan which I really find quite charming. But they apparently don't maintain it that much such that there are sea urchins and other sea creatures in their beach that can injure bathers.

You don't know how hard it was to photograph
San Juanico
bridge aboard a passenger van travelling at 70mph. I think it's beautiful. I would have loved to stop right in the middle of the main span and take pictures but I didn't think I have a chance with our reckless driver.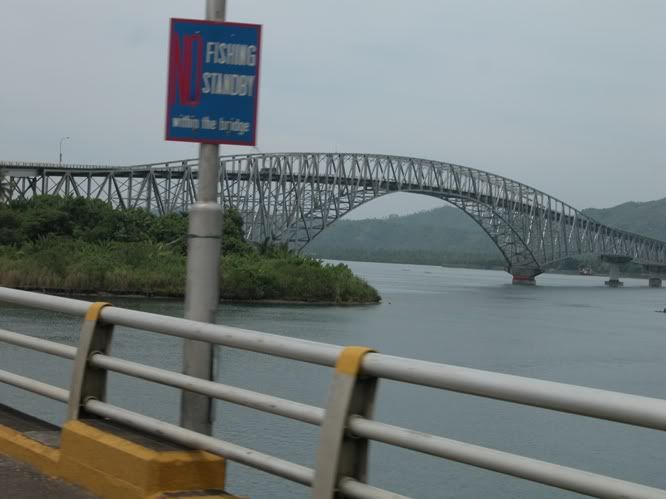 One more time for San Juanico.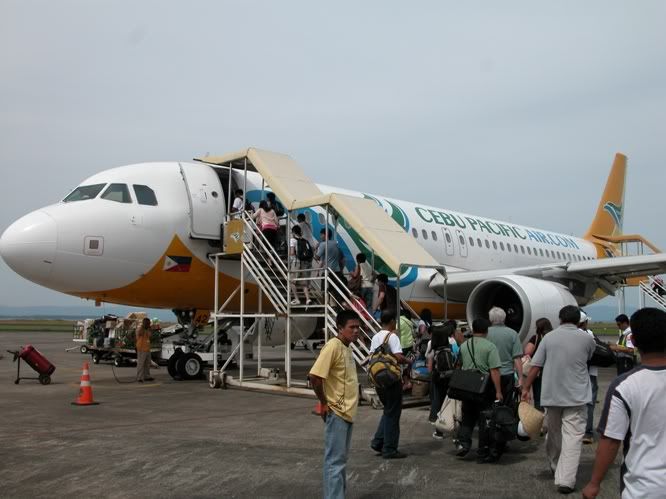 We went to and from Tacloban airport via Cebu Pacific. They're quite good actually. The morning flight incoming to Tacloban was on time but the afternoon flight outwards was delayed by 30 minutes. Not bad.
There were lots more beautiful Samar scenes I failed to record in picture especially ones in the van ride between Guiuan and Tacloban. I'm just glad I persisted in visiting my father's place. Now I feel my sense of identity is much richer and more defined.
Maupay nga adlaw ha iyo tanan.