In 6 months' time I probably won't be coming to my current place of work because of the impending redundancy we're facing. For posterity's sake, I'm showing here how I get to work in the last 10 years that I've been in this company. It was a hard slog the first few months but I got used to it in the long run.

First off, I walk or take a short bus ride to the train station from home. Walking takes about 10-15 minutes while the bus ride is about 3-5 minutes if there's no traffic. At the train station, I take a train towards the direction of London for about three stops.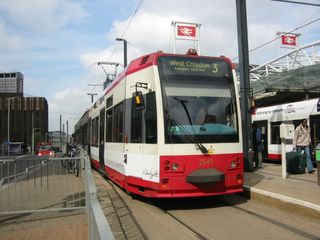 Then I take this relatively new tram system. This is a favourite of commuters around the area because of its accessibility (no need to go up and down stairs) and efficiency (almost always punctual). It's a short 2 stops for me before I get off and take a ...

double decker bus for the final leg of my journey. I always take a seat upstairs. So nice to sit high up and have an eagle's eye view of things happening on the ground. The bus goes to all high streets, main streets and winds thru cork screw roads for, oh about 6-7 miles before it drops me off almost in front of our building. So this is what I might go thru every day - 2 buses, 1 tram, and 1 train. Then I do it all over again on the way home. All in a day's work ... ;)